Georgia Alimony Lawyers
With Family Law Offices in Statesboro, Swainsboro and Springfield
Going through a divorce is difficult. There's no getting around that fact. You are likely stressed about a lot of things. Alimony may be a concern of yours, included in a long list of worries you have about your divorce. Our Georgia alimony lawyers can take a lot of tension out of your life by guiding you through your divorce. Call us today to set up a consultation.
Georgia Alimony Lawyers
With Family Law Offices in Statesboro, Swainsboro and Springfield
Going through a divorce is difficult. There's no getting around that fact. You are likely stressed about a lot of things. Alimony may be a concern of yours, included in a long list of worries you have about your divorce. Our Georgia alimony lawyers can take a lot of tension out of your life by guiding you through your divorce. Call us today to set up a consultation.
Georgia Alimony Lawyers
With Family Law Offices in Statesboro, Swainsboro and Springfield
Going through a divorce is difficult. There's no getting around that fact. You are likely stressed about a lot of things. Alimony may be a concern of yours, included in a long list of worries you have about your divorce. Our Georgia alimony lawyers can take a lot of tension out of your life by guiding you through your divorce. Call us today to set up a consultation.
Testimonials
"You helped me restore my faith in so much that looked bleak and decrepit. Along this bumpy road, my lovely daughter is safe, and home, and starting to find peace again…Thank you. All the pieces unfolded and fell into place through a progression only the Lord could have planned. But the people who fulfilled his plan did it through greatness and kindness and strength. In my opinion you and Martha have done Gods work and the Judge came through! I am indebted to you both. Please understand, I can be a force and support as well. "What doesn't kill you makes you stronger". I still have a long way to go…so I hope that statement is true. My commitment to be there for you is equally strong. It will be a tough journey. I Pray. You guys are amazing. Thank you for everything."

BONNIE GRINGER
"We were referred to Mike Hall by a friend who told us that if they had used him in the beginning, they would have had a lot better result. Using Mike ourselves, we have had the same experience. Mike is very personable and gave us some very wise council. We could tell he was trying to help us. We have used him for several issues that have come up, and he has always handled them in a professional and timely manner. He is quick to answer emails or phone calls, and takes his time answering all of your questions. We are very pleased with his services and would highly recommend him to anyone who has a legal problem."

LYNN & PAM KELLEY
"After a two and a half year battle, my son and I got the justice we longed for. The only quality that I didn't like about Paige was that she was patient. Which, is a very good quality to have. However, hindsight being 20/20, I'm glad she was so patient. Paige and Ashley (her paralegal) were always in communication with me, and responded in a timely and appropriate manner. When opposing counsel started her antics and attempted to berate and take Paige's eye off the prize, she didn't allow it. I sincerely appreciate all they did for me and my son. I know my circumstances were extreme, but Paige looked out for the two of us. I highly recommend the law group, and will always be indebted to them."

DUSTIN SHAW
"This review is in regards to how attorney Martha Hall handled my cases. Before Martha Hall, I was taken advantage of in family court in Jefferson County and Effingham County with sub par attorneys that resulted in rulings that were unfair to me and created headaches and financial difficulties. I experienced three attorneys before Martha Hall. I never felt that I had equal representation in the courthouse, until I discovered Martha Hall. Since I have hired Martha Hall, I have had equal or better representation and my cases have closed with fair rulings. This is solely a result of having Martha Hall as my attorney. I will not change thus moving forward if I need any legal services. She is worth every penny."

KEN GIBSON
"I just have to say the professionalism and conduct of the Hall and Hall attorneys was fantastic from the time we walked in the door. We met Sarah then Mrs. Martha Hall. They were all very attentive and compassionate. Kara, our paralegal, was always there for us. She was always there via email or phone contact. We had a very sensitive legal case and Mrs. Martha Hall walked us through it with compassion and professionalism. I cannot say enough good things about this group or thank them enough for doing what needed to be done."

MYA AND DEAN CAPE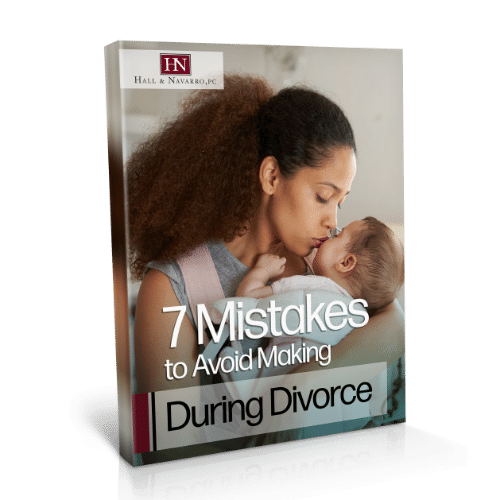 7 Mistakes to Avoid Making During Divorce
Download our FREE guide today and learn what not to do when going through the divorce process.
Types of Alimony That Are Available in Georgia
Alimony in Georgia can be classified as either temporary or permanent. Temporary alimony is given if, during the divorce, one party needs help financially. As you may have heard, divorce can be a long process, sometimes taking up to a year. A party in the divorce may need temporary alimony during this period of time so they can adjust to living without their spouse.
While a lot of couples both work these days, there are still many who are full-time parents, while their partner works full time. It can feel overwhelming to be without financial support during the divorce process. The court tries to create fairness in this difficult time for the dependent party. There may be permanent alimony after the divorce is finalized, but that is based on what the judge determines to be fair.
If you're the one who would most likely be paying the alimony, the idea of permanency can be troubling. Do note that if this is what you wind up with, it doesn't necessarily mean you pay alimony until you die. It can be contingent on the other party getting a job or education so they can become gainfully employed. Negotiation is when the topic of alimony will be resolved.
How to Qualify for Alimony
Alimony is awarded when the judge determines it necessary. There has to be a need for alimony for one party. You and your spouse can both request alimony, but it is actually just a one way thing. You may need to discuss the matter further with one of our Georgia alimony lawyers to see what the circumstances of your case look like. The following are factors that the court will put into consideration when determining alimony:
What each party's living situation has been during the marriage
How long the marriage lasted
How old and healthy each party is
The finances of each party in the marriage
How long it would take the dependent party to get the training and/or education necessary to become gainfully employed
How much each party contributed to the marriage through things such as childcare, support, education, etc.
What each party will have in separate property when the divorce is finalized
Georgia also takes into account why the marriage ended when determining alimony. If the party who would have been receiving alimony caused the marriage to crumble, they may be denied alimony or offered reduced alimony. Committing adultery would be one reason for this to happen. The victim of the adulterer may even be awarded permanent alimony. It is essentially up to the judge to determine what is fair.
How Alimony Gets Paid in Georgia
Alimony payments are usually made either weekly or monthly until it is ordered by the court to stop. It is less common, but not unheard of, for a spouse with more means to give the other spouse a lump sum of the alimony. It is not necessarily a realistic option for most people because the amount can be quite high. You certainly can ask one of our Georgia alimony lawyers about it, if you feel you are able to do this.
Again, the payments are typically weekly or monthly and will be taken out of the spouse's income and deposited directly into the other spouse's account. It will function similarly to how taxes are deducted from income. Instead of the money going to the government, it is going to pay off alimony.
Making Modifications or Ending Alimony
In most cases, either party can request that the alimony agreement get modified or terminated unless there was some sort of written agreement that said changes could not be made. The reasons for changing alimony must be substantial, such as one party getting let go from a job, getting a better paying job, moving in with someone new, etc. If the spouse who is receiving alimony gets married, the party paying that alimony automatically does not have to do so anymore. Also, if the alimony was temporary for a spouse during the process of divorce, it will end as soon as the judge finalizes the divorce.
Frequently Asked Alimony Questions
How do you determine alimony?
I attended a mediation last month with a client who was eligible for alimony and the parties had determined that that was something that she needed in order to remain financially stable following the divorce. The biggest question was to determine the amount of alimony that is needed and how a trial court would calculate that amount. Unfortunately, under Georgia law, we don't have an established formula for calculating and setting alimony in divorce cases. The judge is going to look at one party's need and the other party's ability to pay and that can range dramatically even throughout the life of a divorce case. Parties may be employed or may have changes of income while a divorce is pending, so it's imperative that we show the judge one party's need and the other party's ability to pay over a certain period of time. Ultimately, we look at the last three years of one party's budget, being their need of financial support, and the other party's three years of income, or their ability to pay. We also would consider factors, such as if one party's going to retire soon and what kind of retirement income they may have, or is one party's job unstable where they may not make that much from year to year. All these factors we would want to consider and present to the judge so that ultimately the judge can make a deciding factor on what the formula is, how much alimony would be, and what would be appropriate in your circumstances. Unfortunately, it's a moving target throughout the divorce case. If you have questions about this and would like to speak with us about what kind of alimony you may be eligible for or what factors in your case the judge is really going to focus in on, give us a call so that we can hear about your case and your facts and really talk with you about your situation and determine what you need to be asking the trial court for.
How long does alimony last?
I was meeting with a client last month and he was willing to pay alimony to his spouse. However, the question was how long should he be obligated to do it? In Georgia, there's no set formula for how long alimony lasts or how much alimony can be for every month or every year, so long as alimony exists. It oftentimes, based on your circumstances and your facts, will be determined that alimony should last for X number of years. Ultimately, if you've not been married for ten years or longer, alimony may not be on the table for you. If you have been married for longer than ten years, especially if you get up to 20, 25, 30 years of marriage, then the court is going to look at an alimony obligation and determine how long the alimony should last. There are lots of factors that could go into that, whether your spouse is employed or could be employed, whether with some schooling or education they could go into the workforce and make a substantial amount of money that maybe they didn't already have, then alimony may be set for three to five years to allow them to transition into the workforce and get an education and move along in their financial status. However, if you have someone who's elderly, who's not going to enter back into the workforce, you may have alimony obligations for a longer period of time. It's very rare now that alimony lasts a lifetime. However, Georgia law still does allow that. A judge may say, based on the circumstances, that alimony should be endless until at least the other person dies or remarries. In that circumstance, there may not be a year or a time period that alimony would cease. However, it's more normal, and especially in our circuit or with our local judges, that they're going to designate a number of months or a number of years that that alimony is going to last. That's going to be based on how long you've been married, and one spouse's need versus the other spouse's ability to pay. They also factor in any kind of facts such as educations or other means as you transition into divorced life. Those facts and circumstances may lead a court to plug in alimony for a certain period of time.
What are the different types of alimony?
I was speaking with a current client the other day in whose situation we had already determined that alimony was going to be something that would be a factor for her based on her financial situation, the other party's income, and his ability to pay her alimony following a very lengthy marriage. There are different types of alimony in Georgia. Those alimony types can come into play and benefit certain people, whereas the other type would benefit some other folks. For a lump sum alimony, which is one type of alimony in Georgia, you may want a one-time payout for a piece of property or another investment account. You may want all the control of that alimony so that you can invest it, reinvest it, spend it the way you wish, or purchase a home if you have moved out of the marital residence. That lump sum alimony is a one-time payment. There's also periodic alimony, which is paid out throughout a certain period of time as established by the judge and at a certain monthly or yearly amount. That circumstance may benefit you because it helps you live the lifestyle that you've already established, and you can count on that payment for a certain period of time. Now, there is alimony in Georgia that can be modified by the court if there's a change of circumstance. Some people don't like that option. They don't like that they don't know for sure for a period of time that they're going to be receiving this alimony payment, which is why some people would rather get more money upfront in a lump sum amount or maybe more money for a shorter period of time. Ultimately, if you're negotiating, you can talk about those different types of alimony with the other side and reach an agreement. By the time you go to a trial, you would want to have already established in your mind what type of alimony you would want and what better benefits you so that we can ask the court for a specific type, whether it's lump sum or periodic alimony. If you have questions about the type of alimony that you may be eligible to receive or what may be best for you, please give our office a call so I can walk you through that process.
What does alimony mean?
I was meeting with a client last week and she was very concerned how she was going to be financially stable after her divorce case was complete. She wanted to know what alimony was and whether she was even eligible for alimony. Under Georgia law, alimony is available to those who are in financial need after the divorce case is over. Alimony is essentially spousal support, some financial means for a spouse to be able to maintain a lifestyle after the divorce is finalized. Now, that does not mean that you're going to maintain the same lifestyle. Ultimately, in most cases, both spouses are going to see a change in financial resources, and ultimately, a change in their lifestyle after the divorce is completed. However, alimony is able to come into play and the judge can grant it so that one spouse over the other will be able to continue on in their life without any major hiccups or financial strain. Now, alimony in our circuit and our local judges is a very complicated thing. Georgia does not have a set calculation or formula for alimony. Unlike child support that is based on a very strict formula, Georgia law does not outline how alimony should be calculated.
Ultimately, alimony is going to go to the judge as a request, and we would want to come up with a number based on your needs and the other spouse's ability to pay. The judge is going to come up with a number for your spousal support, whether that's monthly or yearly. The judge has a discretion to say whether that alimony is short lived while maybe you go find a job, or whether it's long-term until you remarry. Sometimes that would occur in the case where the spouse has a very high paying job and is making lots of money and the wife is a stay-at-home mom— that's a normal fact pattern our judges see. The judge is going to determine for how long that person would be eligible for alimony under that circumstance. The judge can grant other financial resources as a form of alimony, such as a piece of property that maybe you could sell or rent out for financial income and that could be considered a form of spousal support or alimony. While alimony is a very complicated issue, we oftentimes see that the parties are able to agree ahead of time as to what the alimony or spousal support obligation would be. Ultimately, if no agreement is reached, a court will consider alimony and make a decision based on what evidence is presented at trial. If you have a question about whether you may be eligible for alimony or whether your spouse is going to have to pay alimony in your case, please give us a call so that we can bring you in and look at your case and determine whether that's something that would be a factor in your divorce.
What should I do if my ex-spouse is not paying the court ordered alimony?
I had a consultation last week where one of my prior clients was awarded alimony in their divorce trial and she came back to me because her ex-husband was not paying what he was ordered to pay. In that circumstance, we would have to file a motion for contempt to have our judge go back and enforce the prior order. Our judges will always enforce what they previously ordered. It's just a matter of how that enforcement comes. He may be ordered to enter into a repayment schedule with you over a certain period of time. He may be ordered, if he's able to, a lump sum reimburse you for what he is behind. He may also eventually be incarcerated if he refuses to pay, doesn't come to court, or doesn't cooperate with us. If he doesn't have the evidence to back that up and won't cooperate with us, he may eventually be incarcerated for not following the court's prior order. Every case is different. Ultimately, if someone is not paying alimony and they are more than 30 days behind, it's important that you come see an attorney so that we can walk you through how much is owed, what facts and circumstances exist for you, so that we can go ahead and file a motion so that we can get a court date and get that prior order enforced as soon as possible.
Will I pay more in alimony if my spouse doesn't work?
I was meeting with a client the other day that was very concerned because, when we had been to a temporary hearing, he was ordered to pay alimony of a certain amount. He was concerned because in the 20 years of his marriage, his spouse had, at some point, been employed. He had great amount of income. His job was very good. He was concerned because his wife was no longer working. During the life of the divorce case, she had become unemployed and had not gone back into the job market. His concern was whether he would have to pay more in alimony now that she was unemployed as opposed to what he was already previously ordered to pay. In Georgia, there is no set formula for alimony calculation. A judge is going to look at one party's needs versus the other party's ability to pay. In this particular case, his ability to pay had not changed. His income was still the same. However, the concern is that the wife's needs had increased because she was no longer working. In that particular case, a judge is going to look at why is she unemployed. Does she have the ability to work? What does she have the skills to do? What kind of money was she making in the prior 20 years of the parties' marriage?
Fortunately, in Georgia, the court does not condone purposefully not being employed and not having income. As long as you can show the facts and circumstances that the wife has the ability to work, she has the skills to work and she has made a certain average amount of money throughout the course of the marriage, the husband would not need to be as concerned with an increase in alimony just because the spouse was not working. Now, of course, there are other scenarios where maybe the spouse has not worked for 20 years or maybe they were recently disabled or unable to work for whatever reason, and that could lead to an increase in an alimony payment. If the judge had previously determined that there was a need and an ability to pay on either side of the ball, then my client may would've needed to be concerned about increasing in the alimony payment just because his spouse was unemployed. If you have questions about whether your spouse's employment status or how much they're making is going to affect your alimony obligation or what the trial court may do in a case where your spouse is unemployed, please give us a call so that we can really hear about your past and your spouse's past employment and whether they need alimony or whether you have the ability to pay. The either precluded or diminished because of your failure to wear that device.
Am I automatically entitled to alimony?
I had a consultation last week where the client came in and asked, "Am I automatically entitled to alimony from my husband?" The answer to that is no. You're not automatically entitled to alimony under Georgia law. Georgia law does provide for alimony rewards, however, where the circumstances are right, such as cases where you have a longer marriage or disparities of income (one party is making a lot more than the other party.) If you have a circumstance where maybe it's a physician married to a stay-at-home mom and that's a decision that the parties made years ago and that kept one person from being able to enter the workforce and make some money, the one party has a large need for the alimony and the other party has a great ability to pay it. Then the court will consider alimony. There is no automatic entitlement or formula under Georgia law for the establishment of alimony or spousal support. If you have questions about your need or your divorce case where you believe that you are eligible and you need alimony to financially remain stable even after the divorce is completed, please give us a call so that we can actually sit down with you, look at your budget, look at the other party's income, and determine what a court may do in an alimony request in your divorce case.
Call Our Georgia Alimony Lawyers Today
If you want representation from caring and supportive Georgia alimony lawyers, please do not hesitate to give our office a call right away to get started. Hall & Navarro will make sure your worries are put at ease.