Watch this video to learn about what happens to the family house during a divorce in Georgia. Then call Hall & Navarro for a legal consultation.
Question:
What happens to the house in a divorce?
Answer: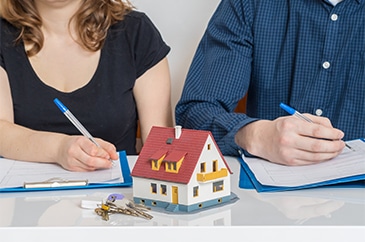 Whenever we receive a call from a new client, one of their major concerns is that they have a residence and they want to know what's going to happen to that house after a divorce is completed. It's a bit of a complicated answer because some people want to remain in their residence and some people don't. Some people want to get a fresh start.
The first question that we would ask usually during your initial consultation is what you want to happen to that home. Depending on what your answer is, whether you want to stay in the house or whether you want to move somewhere else, we really need to sit down and look at whether you can afford to stay there, whether it would require your spouse's support to stay there, whether your children are comfortable and want to stay there or not.
Certainly, the location of where you're going to live is going to matter to the court as to custody. The question that we usually get when it comes to your home is whether your kids are comfortable there. Do they want to stay? Is it in their school district? If you can afford to stay there, that would be our proposal to the judge. Now, if you can't afford to stay there, that creates an issue for the trial court to decide, how can we pay for this home if you want to stay? Would it be more appropriate for both parties if it's listed for sale? If that's the case, should we sell it while we're in divorce? Should we wait until after the divorce is complete and then put it on the market and then transfer the children out of the home? The judge is really going to want us to walk him through what you want to happen, how it's going to affect your kids, if you have any, and who's going to maintain the debt on that property. Based on that and our answers in the trail court, that judge is going to decide whether you're going to be able to keep your home, maintain the payments on it, or whether it may be best to sell the property and split the proceeds. A lot of times, so long as we tell the court and show the court that it's reasonable for you to remain in your home, the court is not going to force you out of your residence. Now, if you have any questions about your particular facts and circumstances and whether you can keep your home or how to go about selling your home during your divorce case, please give our office a call. We'll be more than happy to help.
---
Are you or a loved one in the process of a divorce in Statesboro, Springfield, or Swainsboro and have questions about the family house during a divorce in Georgia? Contact the experienced Georgia divorce lawyers at Hall & Navarro today for a consultation and case evaluation. We can help get your life back on track.