Watch this video to learn about what to do if you have an ex refusing to pay child support in Georgia. Then call Hall & Navarro for a legal consultation.
Question:
What can I do if my ex is not paying the court ordered child support?
Answer:
The other day a client was in our office. They were very concerned because we had already been to court for a temporary hearing and child support was awarded to her, however, the other party was not paying. In that circumstance, we can always approach the court and say, "This person is not doing what you told him to do." At the time of a divorce action, if you've been to court and a judge has told that party to do something, you can request a hearing and file a motion with the court outlining that they're not doing what they were told to do, and the judge would schedule a hearing pretty quickly on that issue.
If that's happening after your divorce or your prior custody case is already completed, in Georgia, you would have to file a petition or a motion for contempt to hold that party accountable under any prior court order. That would be a new case, as far as a new case number, but you would have the same judge, if that judge is still on the bench, that you had before, and that judge is going to want to enforce their prior order. In that case, it may end in a payment plan, if there are unpaid child support arrears, or it may end in incarceration, if someone is not able or willing to pay child support, or they don't show up to court, or they don't cooperate with our requests to see their pay stubs or get information from them.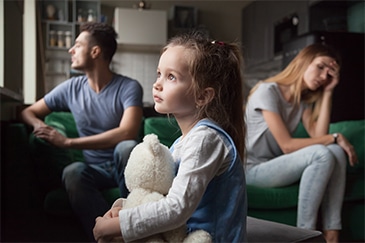 Contempt actions can have high consequences, so someone could either have a payment plan or could be incarcerated, and it wouldn't just depend on how much is owed and how long it's been since they've complied with the court's order. Our judges, especially in our circuit, especially here in Georgia, want you to follow their orders, and they're going to enforce those. If we have to file a contempt action in order to get child support, under the prior order, the court is going to take into consideration any special circumstances that you have, such as if the spouse left the state or refused to pay, or there are any text messages or recordings that show that they're doing it on purpose. The courts is going to take the facts and circumstances of your case and, on that sliding scale of repayment versus incarceration, will choose how your case is going to be finalized in any contempt action.
If you have any questions about how to calculate any past due child support amounts or how the judge might handle your facts and circumstances, whether it would be a repayment action or an incarceration action, call us. We'll make you an appointment, bring you in, and we'll determine whether we think you should pursue a contempt action or whether any other options would be available to you.
---
Are you or a loved one in the process of a divorce in Statesboro, Springfield, or Swainsboro and have questions about an ex refusing to pay child support in Georgia? Contact the experienced Georgia divorce attorneys at Hall & Navarro today for a consultation and case evaluation. We can help get your life back on track.