Watch this video to learn about the division of assets process in Georgia. Then call Hall & Navarro for a legal consultation and case evaluation.
Question:
What happens during the division of assets process?
Answer:
Oftentimes, we get calls from our current clients wondering how the court goes about distributing their assets and what happens to their assets and all of their debts. In Georgia, in divorce cases, they're an equitable distribution of property and debts. What happens is the court will want us to itemize all of your assets and all of your debts, track them back to where they came from and who paid for them or how they were transferred into your name. So long as it is marital property and up for distribution, the court is going to walk through the value, any mortgages or debts owed on any pieces of property or vehicles. We're going to look at the equity and decide equitably and fairly what should the split be on both your assets and your debts.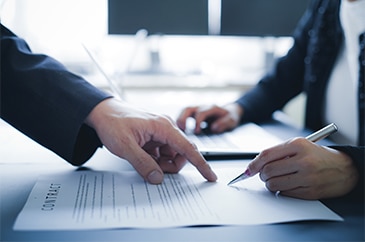 Oftentimes, we're able to put together an exhibit or basically a chart for the court so that it's easily looked at to see how much equity you're dealing with in your assets and we always propose to the judge what we think would be a fair split of those assets. We would, of course, work with our clients to decide what they believe is fair and walk through every asset and every debt individually so that we give the court a full picture of what's really going on in their financial circumstances. If you have any questions about a specific asset or debt or how that would be divided in a court trial process or what would happen to those assets after a divorce was completed, please give us a call. We'd be more than happy to talk to you about your facts.
---
Are you or a loved one in the process of a divorce in Statesboro, Springfield, or Swainsboro and have questions about the division of assets process in Georgia? Contact the experienced Georgia divorce lawyers at Hall & Navarro today for a consultation and case evaluation. We can help get your life back on track.