Custody Rights of Grandparents in Georgia
Watch this video about the custody rights of grandparents in Georgia. Then call Hall & Navarro for a legal consultation and case evaluation.

Question:
Do grandparents have any custody rights?
Answer: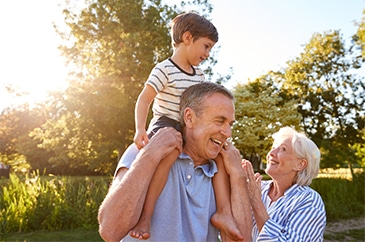 The other day, a friend of mine called. She was worried about whether she, as a grandparent, had any visitation or custody rights to her grandchildren. In Georgia, grandparents do not automatically have visitation or custody rights. What I had to explain to her is that the only way that grandparents can get custody or visitation rights in Georgia is if you can show that the children's parents are unfit.
A grandparent has a hard time doing that a lot of times because one of the children is their child. It would require filing an action in the court to establish visitation or custody rights for the grandparent. In that, you would have to certify that the parents of the child are unfit, unable to parent the child, and that it would be in the child's best interest for visitation or custody to be established into the grandparent.
Now, oftentimes, where grandparents would have more of a right is if, let's say, you were the paternal grandparent, meaning that your son is the father of this child. If your son passes away in a car accident, and unfortunately, your daughter-in-law is not going to allow you to visit the children anymore, then that's an easier bar to cross. Oftentimes, my clients find emotionally, they don't have to attack their child because their child has passed away. They find it easier to have litigation processed through the court system to get visitation established. Oftentimes, especially if there are facts where the daughter-in-law is withholding the child, not allowing telephone contact, not allowing holiday time or even present exchanges, then the judge will ultimately grant visitation to that grandparent.
Now, in that same scenario, if you wanted custody of your grandchildren, you would still have to attack that living parent to make sure that the judge understands what's going on. You would still have the bar of saying that your daughter-in-law is unfit or unable to have custody of those – of that child or those children. The court may grant you custody based on whatever evidence comes out.
There has been recent case law that's come out about grandparent visitation which makes the bar a lot higher, makes it a much tougher case. With the right facts and circumstances, grandparents can be successful in obtaining custody or visitation of their grandchildren. If you have any questions about what your rights may be for your grandchildren and you want to come in and see an attorney about that, we would certainly be happy to help you and make sure that we walk you through that process to make sure that you're not going through this without the necessity of actually having to go to court. If you do, we'd more than happy to walk you through that process.
---
Are you or a loved one in the process of a divorce in Statesboro, Springfield, or Swainsboro and have questions about the custody rights of grandparents in Georgia? Contact the experienced Georgia divorce attorneys at Hall & Navarro today for a consultation and case evaluation.
We can help get your life back on track.
Like Us on Facebook
Out of Town Resources
These New Jersey Child Custody Attorneys have done a great job creating educational content. If you need help with a child custody claim in New Jersey, we recommend you take a look at their website.